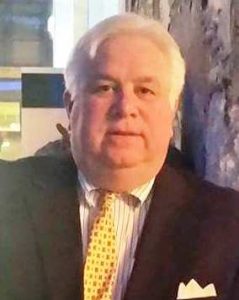 NTACHC is happy to welcome William (Bill) Venable to our Board of Directors.  He has an impressive background in academia, business, marketing and healthcare that will help us improve and expand healthcare for more in our community.
Bill joined the faculty of the College of Business at The University of Texas at Arlington in July 2019.  He was appointed to assistant professor of practice in the department of marketing in July 2020 where he teaches courses in marketing strategy and business communications.  He also teaches services marketing in the masters of science in healthcare administration program.
Bill relocated to the Arlington area after serving 14 years as assistant professor of marketing and management at Park University in Kansas City. While at Park he was also assistant dean in the School of Business and managed the successful effort to achieve initial accreditation of the program from ACBSP.
His undergrad studies were at the University of Kansas where he earned his BS in Journalism. He holds an MBA from Rockhurst University, and an MPA from the University of Missouri – Kansas City.  Bill pursued a doctorate in Health Policy and Management from the KU School of Medicine and a doctorate in Public Policy at UMKC where he was awarded the Arthur Mag Ph.D. Fellowship. There he served on the Research Committee for the Initiative for Competitive Inner Cities with Dr. Michael Porter of the Harvard Business School.
His recent research has focused on improving access to healthcare among the aging population with an emphasis on the early identification and prevention of chronic conditions that are consistent with cognitive impairment and dementia.  His research on ACOs was awarded one of three top honors by the Kansas Public Health Association.   He has also incorporated GIS mapping, CRM, and other database marketing techniques to improve capacity planning for under-served Medicaid recipients in Kansas.
Before entering academia, Bill accumulated more than 20 years of professional experience in financial analysis, marketing, and strategic consulting with divisions of Sprint, Merrill Lynch, 20th Century-Fox Film Corporation, AMC Entertainment, Dean Witter Discover, UMB Bank, and Hallmark Cards.  He has also managed analytical projects for Fortune 500 firms including AT&T, Ford, Caterpillar, American Express, and United Airlines.
Very talented in bridging the gap between theory and practice, Bill has been honored at the national level for teaching excellence.  When not in the business world he is an award-winning chef and author of three books on Kansas City Barbeque.  His wife Kathy is very active in the Greater Arlington Chamber of Commerce, where she was the inaugural chairwoman of the Latino Business Group.  Bill and Kathy reside in Mansfield.